US Ethereum futures ETFs are set to launch soon, possibly next week.

The price of Ethereum (ETH) has experienced a 1.22% increase in the last 24 hours.
The continuing battle between cryptocurrency entities and the U.S. Securities and Exchange Commission (SEC) has taken an unexpected twist. Ethereum Futures Exchange-Traded Funds (ETFs) are set to make their debut in the United States, possibly as early as next week, according to Bloomberg analysts. This development comes after a turbulent relationship between crypto industry and the U.S. SEC, which has been closely monitoring the digital asset space since the 2017 crypto frenzy.
Analysts Eric Balchunas and James Seyffart from Bloomberg have reported a 90% likelihood of Ethereum Futures ETFs launching in October 2023. They have further forecasted that Valkyrie Bitcoin Futures (BTF) is poised to become the first fund to offer exposure to Ethereum, with a scheduled launch date of October 3, 2023.
Ethereum (ETH) on the Rise
As anticipation builds around these ETFs, the native cryptocurrency of the Ethereum network, Ether (ETH), has seen a 1.22% increase in its price over the last 24 hours, reaching a trading value of $1,610. Notably, daily trading volume has surged by approximately 86.5% during the same period.
Despite this recent uptick, Ethereum's price has been hovering near its yearly lows. Still, the price remains above the Exponential Moving Average (EMA). Also, the Relative Strength Index (RSI) stands at 46.52, indicating an oversold zone.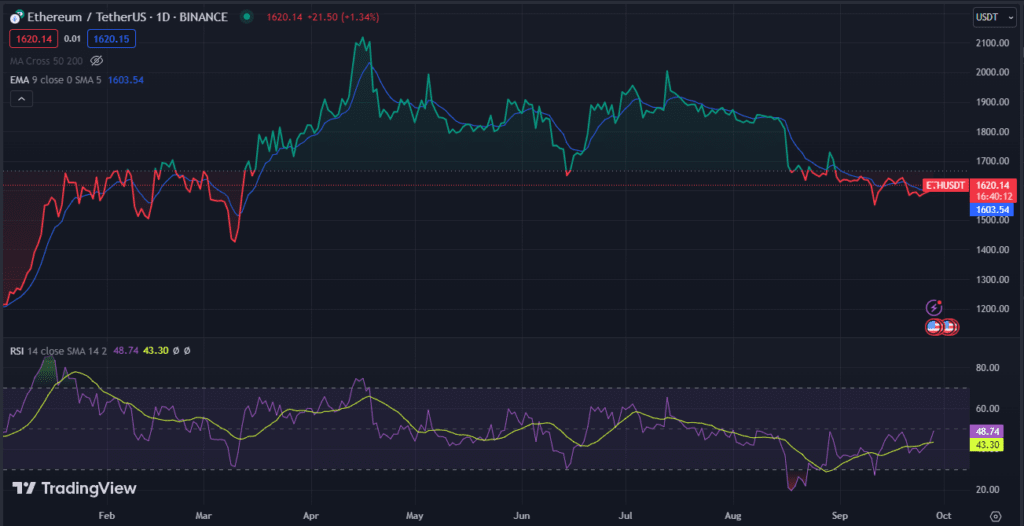 However, technical analysts have identified a bullish signal in the form of a "cup and handle" pattern in Ethereum's price chart. This pattern typically suggests an upward price trajectory, with lower trading volumes on the right-hand side of the pattern.
If this pattern continues to unfold, Ethereum's price could potentially reach resistance levels at $2,095.34 and $2,922.84. Conversely, if market sentiment reverses, the price may fall to support levels at $1,521.58 and $1,036.06.
The imminent arrival of Ethereum Futures ETFs represents a significant milestone in the cryptocurrency space, with investors eagerly awaiting the opportunity to gain exposure to Ethereum through traditional financial instruments.