What is Paysend?
Paysend is a money transfer platform that allows users to send money directly to any Visa, Mastercard, or UnionPay card in over 80 countries. This is a fast, easy and secure way to send money to your loved ones at a fixed, low rate.
You can make transfers 24/7 from your laptop, tablet or through Paysend's mobile app on your smartphone.
Paysend transfers your funds in your local currency or any other supported currency using the mid-market exchange rate without any hidden or additional fees.
Features of Paysend
Send Money Worldwide: The Paysend app lets you send money to friends and family in over 90 countries globally, keeping you connected with your loved ones.
Fast transfers: Paysend won't keep you or your recipients waiting! Your funds will usually arrive within minutes of hitting 'submit'.
Send to a bank account with no fees: With Paysend, you can transfer your money abroad to your international bank accounts with no transfer fees!
Deposit to the card: Our unique card2card transfer allows you to deposit money directly to a credit, debit, or prepaid card for a flat fee of just £1, €1.5 or $ 2.
Simple mobile app: Paysend money transfer app is an easy-to-use banking alternative for those who want to send money internationally without having to pay high bank fees or wait in line.
Is Paysend reputable?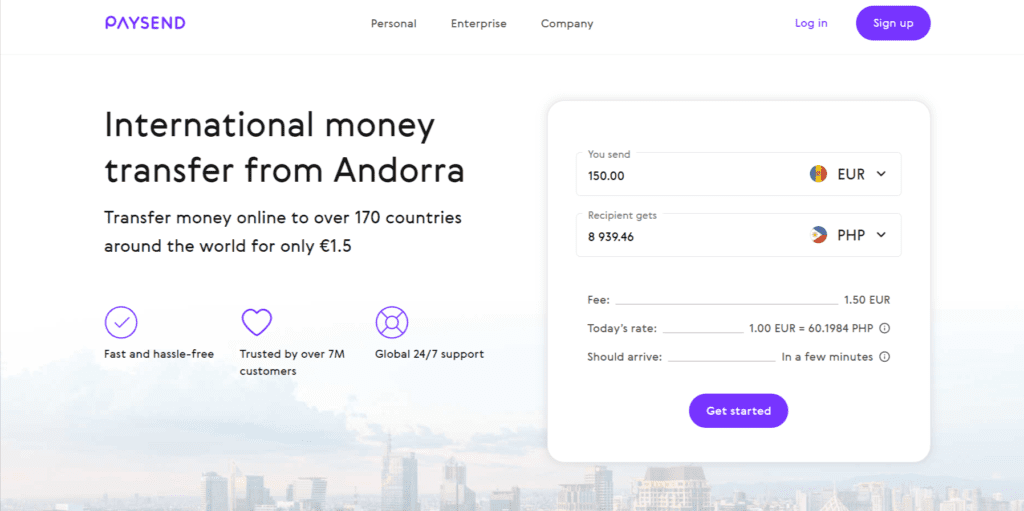 Keeping your funds safe is Paysend's top priority.
PaySend fully complies with the local regulations and requirements of the countries where both the sender's and the receiver's cards are issued. Paysend also complies with the standards and rules of the international payment scheme – Visa Inc.
Over 2 million people have used Paysend for their international transfers, and we've received over 10,000 Trustpilot reviews – with 89% rating us 'excellent.
Here's what the experts say about Paysend:
Pioneered… the world's first international money transfer system by knowing the recipient's 16-digit card number. – The Courier
Consumers benefit from the ability to move money, bypassing the traditional banking system and eliminating all the inefficiencies associated with slow delivery speeds, high exchange rates and fees. correspondent banks. Finextra
It only takes a few minutes to get started – download the Paysend mobile app now and open your online account to start sending money abroad!
How does Paysend work?
PaySend makes it easy to sign up and transfer money globally to your friends and family. To transfer money on Paysend, follow these steps:
Step 1: Enter the amount you want to transfer and the country you want to transfer.
Step 2: Agree to accept the transfer rate, and confirm the amount and destination country.
Step 3: Enter the recipient's Visa or MasterCard debit card or credit card number and your card details.
Step 4: Confirm transfer and send money. PaySend transfers funds instantly, but it can take anywhere from 1 minute to 72 hours for banks to show transfers being credited.