Payeer wallet is currently the most mentioned phrase on international e-commerce websites or places with online payment services. In addition to regular Paypal registration to receive USD, Payeer is an electronic wallet that helps us receive money when playing games on Russian gaming sites.
What is Payeer?
Payeer is an international online payment wallet service based in Russia. Payeer is one of the very popular payment systems today for people making money online. Now people can use Payeer to buy, sell and pay for services anywhere in the world. In addition, Payeer also provides money exchange, receive and transfer services globally.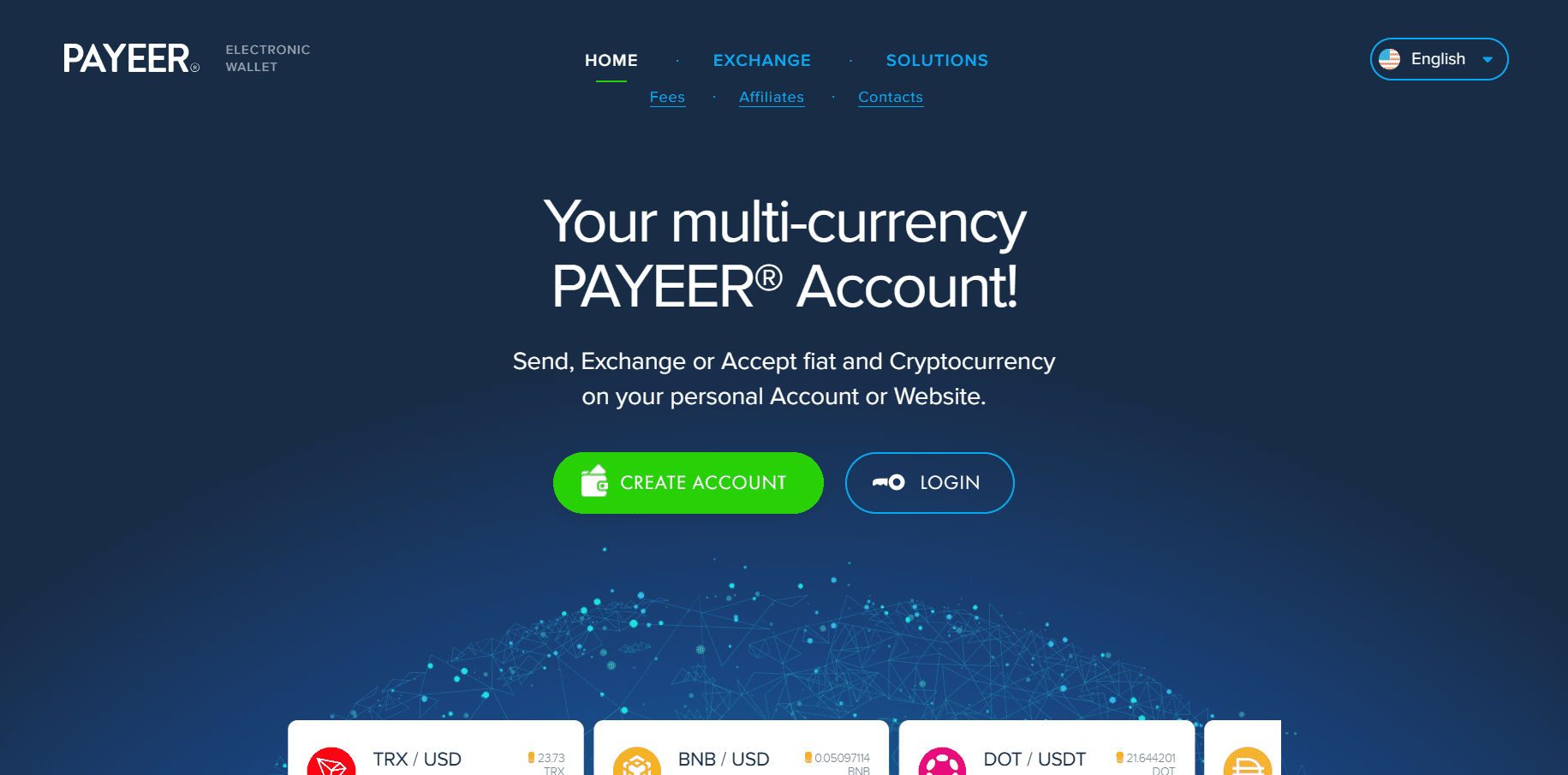 Feature Payeer
There are many online payment tools today, in my personal opinion, after using all of the above applications, Payeeris great and absolutely safe. Because it supports the payment of many added utility services compared to other e-wallets that I have listed above, specific services such as:
Make payment for goods/services from online to offline
Continuous payment online 24/7
Automated currency exchange
Payment for business and investment projects online
Recharge directly from Visa, MasterCard, Bitcoin, AdvCash, Web Money…
Make money transfers between Payeer members at no cost
Withdraw money to Visa, MasterCard, Paypal, Wire Transfers Int and other payment gateways…
Safely store funds
Payeer transaction fees
Payeer charges a remittance fee of 0.95% per transaction.
Supported currencies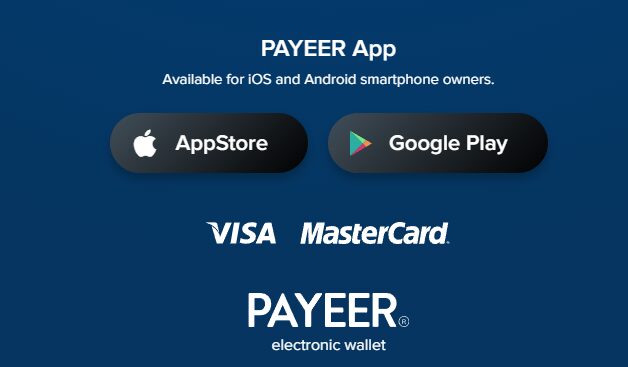 Payeer wallet can store up to 8 currencies:
Money United States Dollar (USD)
Russian Ruble (RUB)
Euros (EUR)
Bitcoin (BTC) virtual currency
Ethereum (ETH) Virtual Currency
Bitcoin Cash ABC (BCHABC)
Litecoin (LTC) virtual currency
Dash virtual currency (DASH)
How to sign up for a Payeer account?
Step 1: After accessing the Payeer homepage at https://payeer.com/, click Sign Up. Step 2: Enter all the information: Email, Security code: Enter the code in the box next to it. Click "Create Account"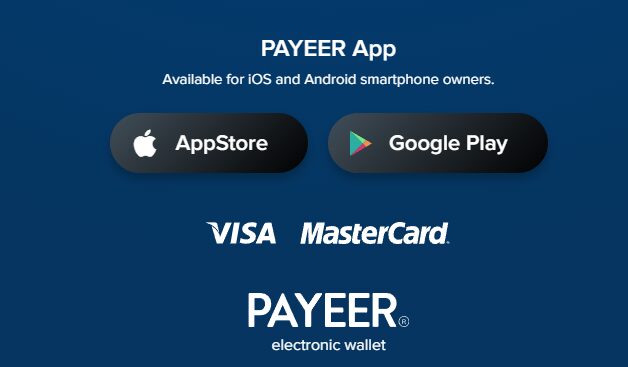 Step 3: Enter the confirmation code sent to the email by the system in the box "Confirmation code" and then click "Create Account" Step 4: Enter details to create a Payeer account. Click "NEXT".
New Password: Password must have uppercase characters and numbers
Repeat New Password: Confirm the password again
Secret Word: secret characters
Account Name: Account name
How to verify (verify) Payeer account
Step 1: Click on the Settings section (gear in the upper right corner) and open the Profile tab. You will be asked to verify your account with KYC
Type of account: select Personal.
Enter information: Name (first and middle name), Last Name (last name)
Upload account authentication documents: Passport / ID (ID card includes 2 front and back).
Proof of address: upload electricity, water/bank statements or bills with the same information as "full name, address" and within the last 3 months.
Enter your phone number and then select "Bind Mobile number", wait for the CODE code to be sent to you, and enter and press CONFIRM to complete. You can do it later if the account does not have money because the system requires money for them to send messages.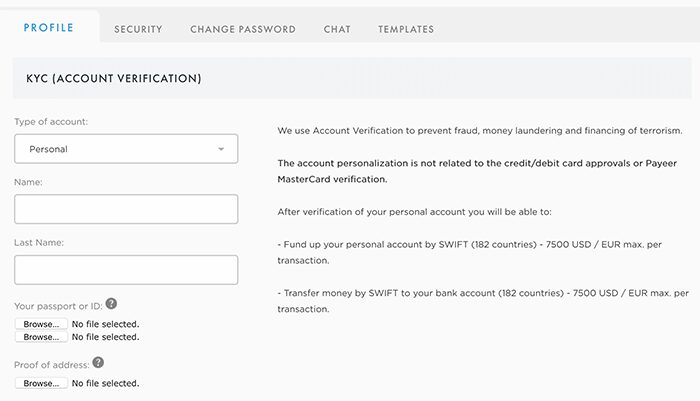 Enter the username on Telegram as @username and then select "Bind account of telegram". Payeer will ask you to go to the Telegram app and search @PayeercomBot to enter the CODE they sent for verification, and press "CONFIRM". Finally, enter the Master Key to finish.
In the "Send verification code" section, you choose one of three security mechanisms: Email, SMS, Master Key.
Tick ​​"Enable Master Key" to be sent a key code to use when making a money transfer or exchange to enter a confirmation key before the transaction.
Check "Disconnect Automatic Password Recovery" to disable automatic password recovery when forgotten.
Click on "CONFIRM" to complete the authentication.
How to use Payeer wallet
Above is the main interface of Payeer, which contains information such as:
BALANCE: Available account balance, including Fiat and Cryptocurrency
TRANSFER: Transfer money to another Payeer wallet
EXCHANGE: Convert currencies in Payeer wallet
TRADE: An exchange where all Payeer wallet users can exchange all currencies with each other.
HISTORY: View transaction history.
In the upper right corner is the address of the Payeer wallet, starting with the letter P. Each account will have a different unique address to receive money.
How to Deposit Payeer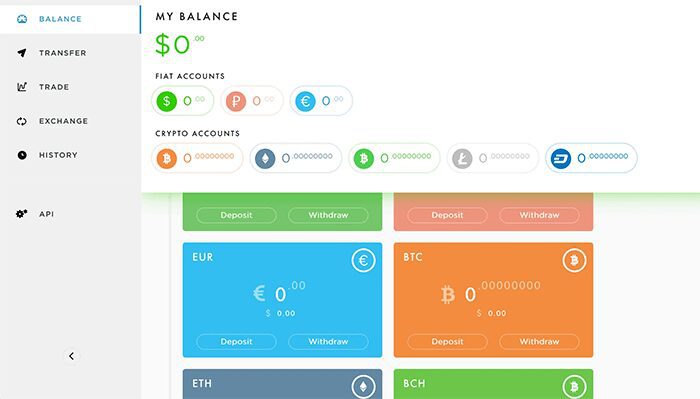 Click on the dollar image on the screen, select the currency you want to Deposit, Then enter information like:
Account: select the currency you want to Deposit
Payment systems/ Through exchangers: choose a payment system
Amount: enter the amount of money
Click "ADD", Check the correct information before pressing "CONFIRM" to confirm.
Conclude
So through this article, this is a review of what Payeer Wallet is, instructions for identifying account links and using Payeer in its entirety. If you have any questions, don't forget to leave a comment.