Perfect Money is a name that is heard a lot in the context of e-currencies. It's a Digital or Electronic currency which you can use for buying Bitcoin, Ethereum or altcoins through exchanges like DollarPesa or use it for buying services from merchants that accept PM as a way of payment.
You can easily buy bitcoin with Perfect Money using our services or exchange your PM for PayPal as a part of our e-currency to PayPal exchange service.
Let's see what is this e-currency that deserves to be called Perfect Money and where does it come from? In this post, we go through everything about perfect money. Plus, we are going to suggest a safe way for you to exchange Perfect Money to Tether that will save you a great sum of money in your investments.
What is Perfect Money?
Perfect Money has been around since 2007, perhaps even earlier. It is an e-wallet for exchanging payments, saving cryptocurrencies or fiat currencies, shopping online, gaining interest, and more.
There is absolutely no background information about the organization running the service and even Reuters was unable to locate the proprietor. Most people tend to think that the website is running out of Panama, but this has been refused by that country's government. Perfectmoney.com used to be the URL of the website, but it has been moved to perfectmoney.is, although you can still reach their website via the .com version.
Concerning the exact nature of Perfect Money, there is still some uncertainty. Perfect Money acts as an e-wallet and provides an e-currency, often referred to as Perfect Money, according to the Reuters study. You will see four supported currencies listed: USD, EUR, gold, and Bitcoin if you go to the company's website and read through their FAQ.
So, the reputation of Perfect Money is somewhat under wraps. This is, on the one hand, a service that has been in operation for quite some time, and that continues to be popular with many online users. On the other hand, very little about who operates the company can be proven, and even its services are quite mysterious.
What can Perfect Money be used for?
Perfect Money, however mysterious, is a useful digital currency and can be used in a variety of cases. Here, we list a few of the usages of Perfect Money:
Transference of money between users

Accepting payments on your website

Payment for goods and services on the Internet

Purchases of Bitcoins, gold, US dollars, and Euros

Loan and receipt issuance throughout the system

Earn additional revenue by participating in a partnership plan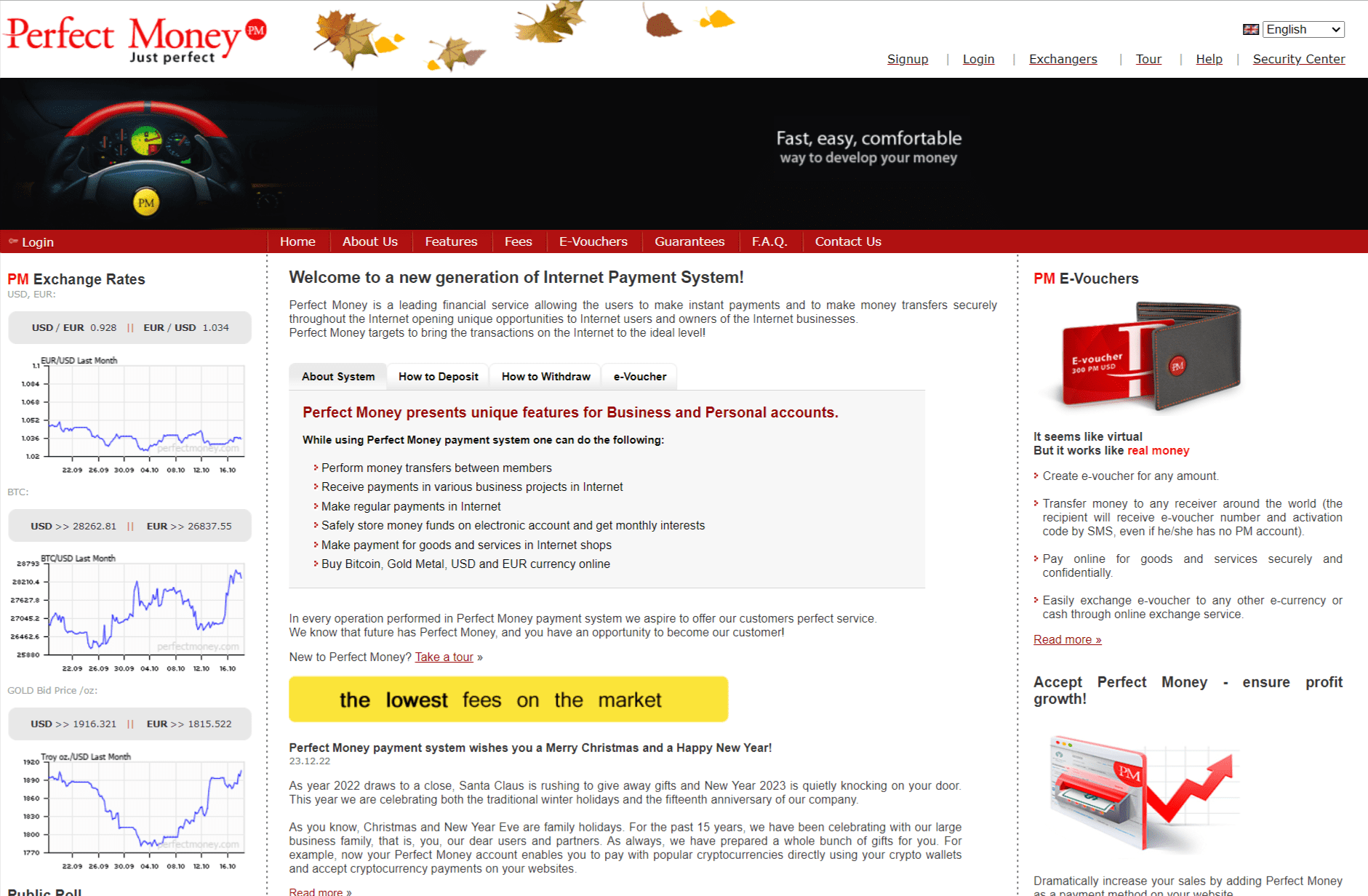 The biggest drawback of Perfect Money, however, is that you cannot directly cash it to your bank on its website, you have to do it through exchange platforms like. Fortunately, DollarPesa will provide you with the lowest exchange rates on the market without any KYC needed. You can easily buy all sorts of cryptocurrency with PM and also exchange your Perfect Money balance for PayPal to use it as you desire.
How to Deposit and exchange Perfect Money?
To make payments with Perfect Money on the Internet, you need to load your account first. This can be done by different techniques that allow you to transform your real wallet into a virtual one. Although you can use Tether or other cryptocurrencies from our exchnage to deposit money in your PM account, below you can read about the 7 ways to deposit Perfect Money according to its website:
Bank Wire
You can send Bank Wire (SWIFT/IBAN) from your online banking account to deposit your Perfect Money account or accept Bank Wire from a third party, such as your business partner. Even if you do not have a bank account, you have the opportunity to accept Bank Wire by offering your partner's Perfect Money account information.
Instant Bank Transfer
A convenient way to deposit Perfect Money is from the comfort of your home. By using this method, you order your bank to make a transfer to Perfect Money without visiting your local branch. The payments are immediate and available to Perfect Money users and bank account holders in Austria, Switzerland, Belgium, and Germany.
Certified Partners in Exchange
Perfect Money can be purchased using other cryptocurrencies, Western Union, Money Gram, or only using cash.
Cash Terminals
A quick cash-based method is available for making a deposit from Perfect Money to your account. To create an order, go to the "Deposit" section of your account and then make a deposit at the payment terminal near you. The funds are credited to your account instantly. 150,000 payment terminals are open in the Russian Federation and Ukraine.
Bitcoin
You can also make a Perfect Money deposit using Bitcoin. This way, you can immediately deposit funds to your Perfect Money account after 3 network confirmations. A faster way to exchnage bitcoin for Perfect Money is to use DollarPesa services.
Prepaid Card / e-Voucher for Perfect Money
This is an option in which you locally purchase an e-Voucher with an Activation Code or a Prepaid Card on the Internet and credit your account after entering the code on the special form. For example, with a variety of online exchange services or auctions, you can purchase an e-Voucher for cryptocurrency or Western Union.
E-currency
You can also deposit funds from Perfect Money accounts into electronic payment systems through e-currency transfers. All the transactions for e-currency deposits are instant. You can use reliable exchange agents such as DollarPesa to carry out such a deposit process.
After all, it's always easier to find a Perfect Money exchange that allows you to deal with your PM needs quickly and safely.
How to exchange Perfect Money to Tether (USDT)?
In comparison to the large swings observed in the prices of other common cryptocurrencies such as Bitcoin and Ethereum, Tether belongs to a new breed of cryptocurrencies called stablecoins that aims to hold cryptocurrency valuations stable. Instead of being used as a means of speculative investment, Tether would allow it to be used as a medium of trade and a mode of storage of value.
So if you come across some Perfect Money, and you are planning to invest that sum into cryptocurrency, exchanging Perfect Money to Tether (USDT) is a great solution for keeping your Perfect Money value intact. You can use your Tethers to purchase other cryptocurrencies at any time you feel like. Using DollarPesa services, you can easily exchange your Perfect Money to Tether (USDT) without any KYC. Below you can read how you can exchange Perfect Money to Tether via DollarPesa.
To exchange your Perfect Money to Tether using DollarPesa, you will not be asked to sign up or take part in any KYC process. Follow this step by step guide to carry out a reliable exchange process:
Go to DollarPesa homepage

Pick Perfect Money from the box on the left and Tether on the right

Enter the Perfect Money amount you want to exchange and behold the most competitive exchange rates from Perfect Money to Tether!

Click "Exchange"

Enter your Tether wallet details, email address, and phone number and press "Exchange"

Review your order details, prove you are not a robot, and press "Exchange" again

Obtain a tracking ID

Transfer your Perfect Money to the DollarPesa wallet

After your payment is confirmed, you will have Tether in your wallet!
Remember that if you have any questions or problems, you can always bank on our support team. Contact us via WhatsApp, Telegram, Facebook, Email, Skype, Contact Form, and Live Chat in the bottom right corner of the screen.