Fiverr is an online marketplace where freelancers can offer their services to clients across various industries. The platform allows freelancers to create "Gigs," which are service listings that outline what they can offer to potential clients. Fiverr offers a wide range of categories, including writing, graphic design, programming, marketing, and more.
Fiverr is a popular online marketplace that connects freelancers with clients from all around the world. Whether you are a writer, designer, programmer, or any other type of freelancer, creating a Fiverr account can open up a world of opportunities for you. In this article, we will guide you step by step on how to create a Fiverr account and get started on your freelancing journey.
Signing up for a Fiverr Account
To get started on Fiverr, you need to sign up for an account. Follow these steps to create your Fiverr account:
Visit the Fiverr website (www.fiverr.com).

Click on the "Join" button located at the top right corner of the homepage.

You can sign up using your email address or social media accounts like Facebook or Google.

Fill in the required information, including your name, email address, and password.

Agree to the terms of service and privacy policy.

Click on the "Join" button to create your account.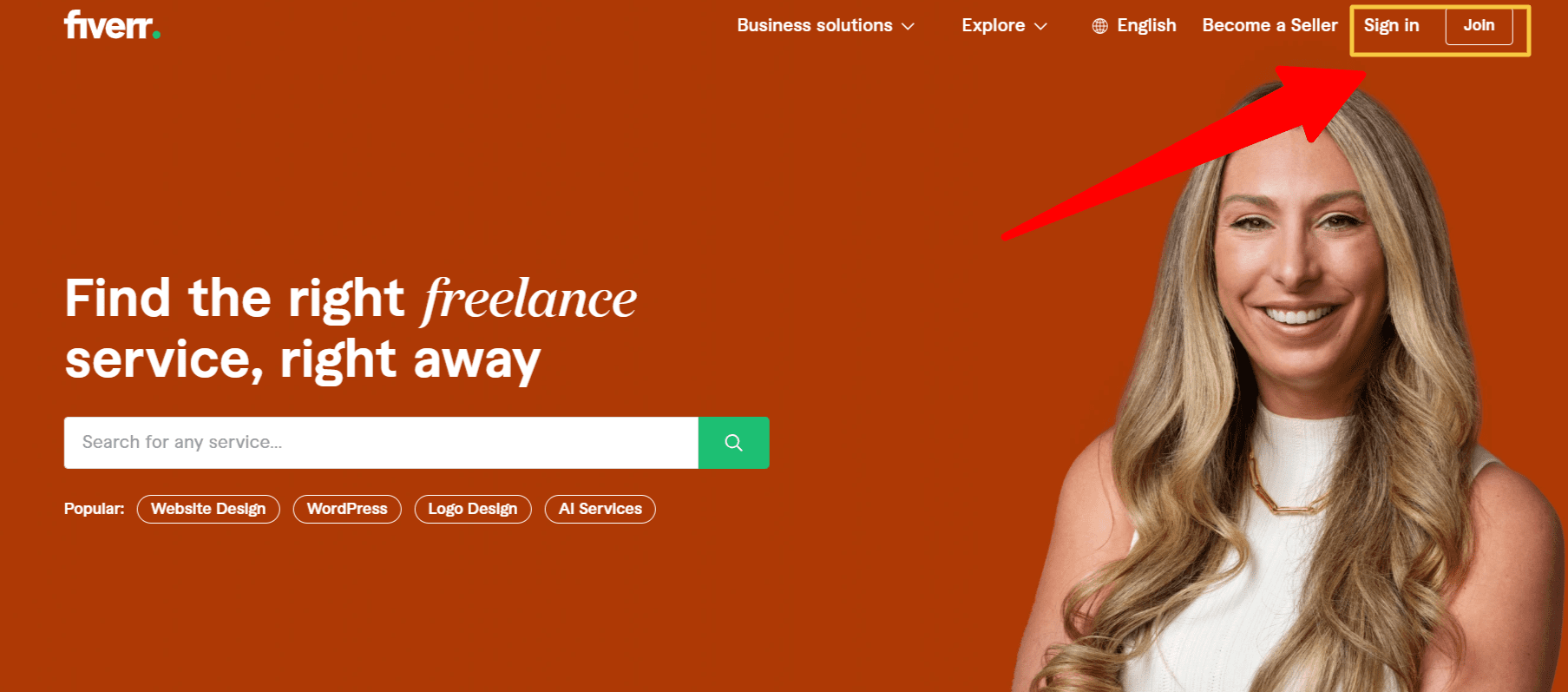 Setting Up Your Profile
Once you have created your Fiverr account, it's time to set up your profile. A well-optimized profile will help you attract clients and stand out from the competition. Here are some tips to create an impressive Fiverr profile:
Add a professional profile picture that represents your brand.

Write a compelling and informative description of your skills and experience.

Highlight your expertise and any relevant qualifications.

Include samples of your work or a portfolio to showcase your capabilities.

Set your desired hourly rate or price for your services.
Creating Gig Listings
Gigs are the heart of Fiverr, as they allow you to showcase your skills and attract clients. When creating a Gig listing, keep the following in mind:
Choose a catchy and descriptive title that clearly conveys what you offer.

Write a detailed and engaging Gig description that outlines the scope of your services.

Add relevant tags and keywords to help clients find your Gig in search results.

Specify the delivery time, revisions policy, and any additional services you provide.

Use high-quality images or videos to visually represent your Gig.
 Promoting Your Services
While Fiverr provides a platform for freelancers to showcase their talents, it's also important to promote your services outside of the platform. Here are some effective ways to market yourself on Fiverr:
Share your Gig links on social media platforms like Facebook, Twitter, and LinkedIn.

Leverage your personal and professional networks to spread the word about your services.

Participate in relevant online communities and forums to establish yourself as an expert in your field.

Collaborate with other freelancers or businesses to expand your reach.
 Managing Orders and Payments
When a client places an order on your Gig, it's crucial to deliver a high-quality service and maintain clear communication. Here's how to effectively manage orders on Fiverr:
Review the order requirements carefully and ask any necessary clarifying questions.

Set realistic delivery times and ensure you meet the agreed-upon deadlines.

Communicate with your clients promptly and provide regular updates on the progress of their order.

Deliver the completed work and ask for feedback from your clients.

Fiverr handles the payment process, and you can withdraw your earnings through various methods like PayPal, bank transfer, or Fiverr Revenue Card.
Building a Positive Reputation
Building a positive reputation on Fiverr is crucial for long-term success. Positive reviews and ratings can help attract more clients. Here's how to maintain a good reputation on the platform:
Provide exceptional customer service and go the extra mile to exceed client expectations.

Deliver high-quality work consistently and meet or beat the agreed-upon deadlines.

Encourage satisfied clients to leave reviews and ratings on your Gig page.

Respond to client feedback, both positive and negative, in a professional and constructive manner.
Fiverr Pro: Taking Your Freelancing Career to the Next Level
Fiverr Pro is an exclusive program for top-rated freelancers who have proven their expertise and professionalism. Being a Fiverr Pro can enhance your credibility and attract high-paying clients. Here's how to apply for Fiverr Pro:
Ensure you have a strong track record on Fiverr with positive reviews and high-quality work.

Meet the eligibility criteria, which includes demonstrating exceptional skills and experience in your field.

Submit an application to join the Fiverr Pro program.

If accepted, you can create a Fiverr Pro Gig and enjoy additional benefits and exposure on the platform.
Tips for Success on Fiverr
To maximize your success on Fiverr, consider the following tips:
Continuously update your skills and stay informed about industry trends.

Offer exceptional customer service and maintain open lines of communication with your clients.

Regularly promote your Gigs and seek opportunities to expand your client base.

Stay competitive by researching other freelancers in your niche and adjusting your services accordingly.

Strive for excellence in every aspect of your freelancing career.
FAQs
Q1: Is it free to create a Fiverr account?
Yes, creating a Fiverr account is completely free. However, Fiverr charges a service fee on the earnings you make from completed orders.
Q2: Can I offer multiple services on Fiverr?
Yes, you can offer multiple services on Fiverr by creating separate Gig listings for each service you provide.
Q3: How long does it take to get your first order on Fiverr?
The time it takes to receive your first order on Fiverr can vary. It depends on various factors such as the demand for your services, the competitiveness of your niche, and the quality of your Gig listings.
Q4: Can I cancel an order on Fiverr?
In certain circumstances, you may need to cancel an order on Fiverr. However, excessive cancellations can negatively impact your reputation, so it's important to communicate with your clients and try to find a resolution before canceling.
Q5: Can I work on Fiverr part-time?
Yes, many freelancers on Fiverr work part-time. You have the flexibility to choose your working hours and the number of projects you take on based on your availability and preferences.
Conclusion
Creating a Fiverr account is an excellent way to start your freelancing journey and showcase your skills to a global audience. By following the steps outlined in this article, you can create an impressive Fiverr profile, create compelling Gig listings, and effectively manage orders and payments. Remember to prioritize customer satisfaction and build a positive reputation to attract more clients and unlock new opportunities.