In this review we will look at the most important topics regarding Perfect Money: Sign up procedure, fees, verification, deposit, and withdrawal options. We believe this will be one of the most detailed and accurate Perfect Money e-wallet reviews to be found on the internet. Find out what Perfect Money is and how to use it. There is a lot of information, so get comfortable in your chair and let's start studying the Perfect Money payment system from A to Z.
What is Perfect Money?
Perfect Money is an electronic payment system that offers a range of features for secure and convenient online transactions. Anonymous money transfers over the Internet are made simple with Perfect Money, it is a reliable alternative for traditional online payments like bank transfers. Making a transfer no longer requires a trip to the bank or a lengthy wait at an automated teller machine. Perfect Money offers tremendous opportunities to internet users and business owners.
Perfect Money users may convert their funds into digital currencies in minutes and at a reduced rate. They have a long-standing financial arrangement that permits them to send and receive wire transfers from all over the world. Read the whole article to learn all you should know about the Perfect Money e-wallet.
History of Perfect Money
Perfect Money, initially launched in 2007, is one of the world's most popular cashless payment networks. The company promotes itself as an excellent alternative for managing your assets quickly and securely. Its main advantage is that users' personal information is kept entirely confidential. Perfect Money Finance Corp is headquartered in Zurich, Switzerland, with offices in Hong Kong. Customers may now use Perfect Money to execute private transfers, including monthly payments, pay for goods and services via the Internet, keep cash and crypto-currencies with a profit on the balance, and much more. Perfect Money is also a frequently used e-currency on the XMLGold e-currency and cryptocurrency exchange. More and more online stores start to accept Perfect Money payments. Many online business projects have found this payment system to be useful. This payment method can be beneficial to you if you are interested in anonymous and instant payments. Despite its popularity, Perfect Money is a quite specific payment system. Consequently, we'll go through the payment system's features and tools in more detail.
Perfect Money Account Types
When you register on Perfect Money, you have the option of selecting one of the following account types:
Normal:
A new client who signs up on one of Perfect Money's website is offered a standard account. It has some cons, but overall it places no limitations whatsoever.
Premium:
Users who have kept their accounts active for at least a year are eligible for premium accounts. You must contact customer service if you wish to upgrade your account from ordinary to premium. An additional perk of a premium account is a discount of 2% on all Perfect Money transactions.
Partner:
Partner accounts are issued based on strong financial management. This account is for people who wish to improve the functionality of their websites for commercial transactions. These accounts are exclusively accessible to company owners that run their activities online. Having a partner account is an honor since it shows that you are reliable and trustworthy.
Perfect Money Sign Up Process
To use the Perfect Money e-wallet, you must first understand it. Perfect Money is a kind of electronic wallet, in some points, similar to PayPal, Skrill, Advcash, Payeer, and some other online payment systems. It enables users to send money and make and receive payments via the Internet securely and near-instantaneously.
Follow these steps to establish a Perfect Money account (e-wallet):
Step#1:
To start the process, you need to visit https://perfectmoney.com/
Go to the website and click "Signup" to register a Perfect Money account.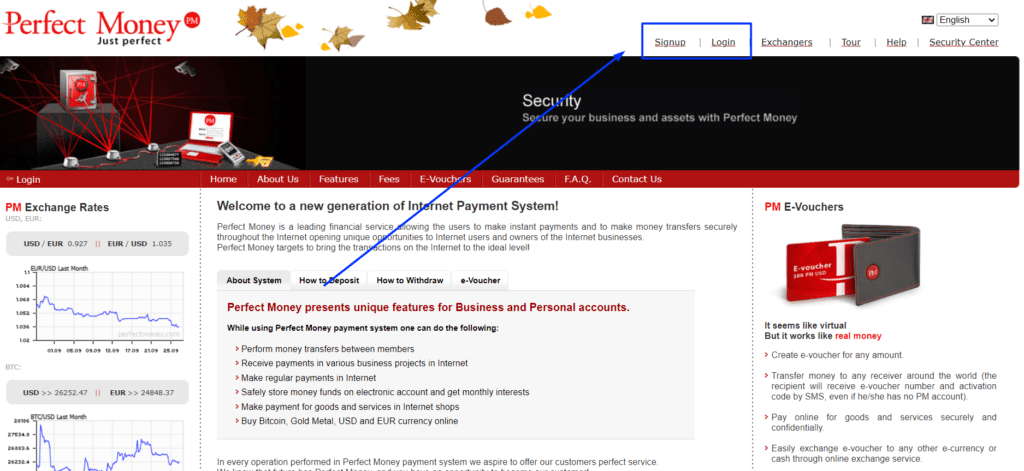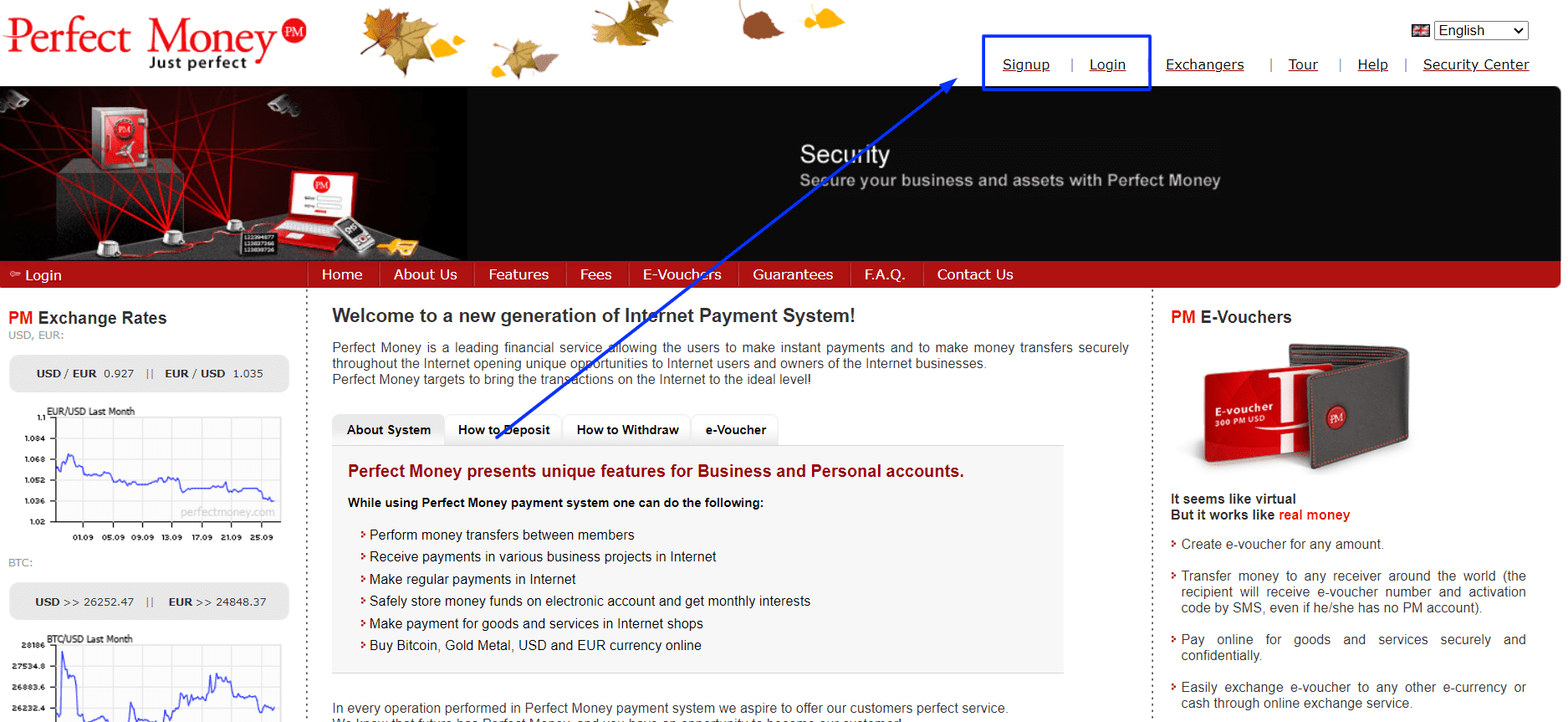 Step#2:
Fill up the fields with your details. You must first provide personal information to open a Perfect Money account.
The following is a synopsis of the data:
– Your full name.
– The city's name.
– The name of your nation.
– The postal code.
– Your email address
– Telephone and fax (Optional).
After that, the following information is provided:
– Account type: For most users, choose "Personal."
– The password for your Perfect Money account.
At the bottom of the section, you will need to enter the following information:
– Enter the turning numbers after this.
– Accept the terms and conditions in their entirety.
– Click "Register" to set up an account.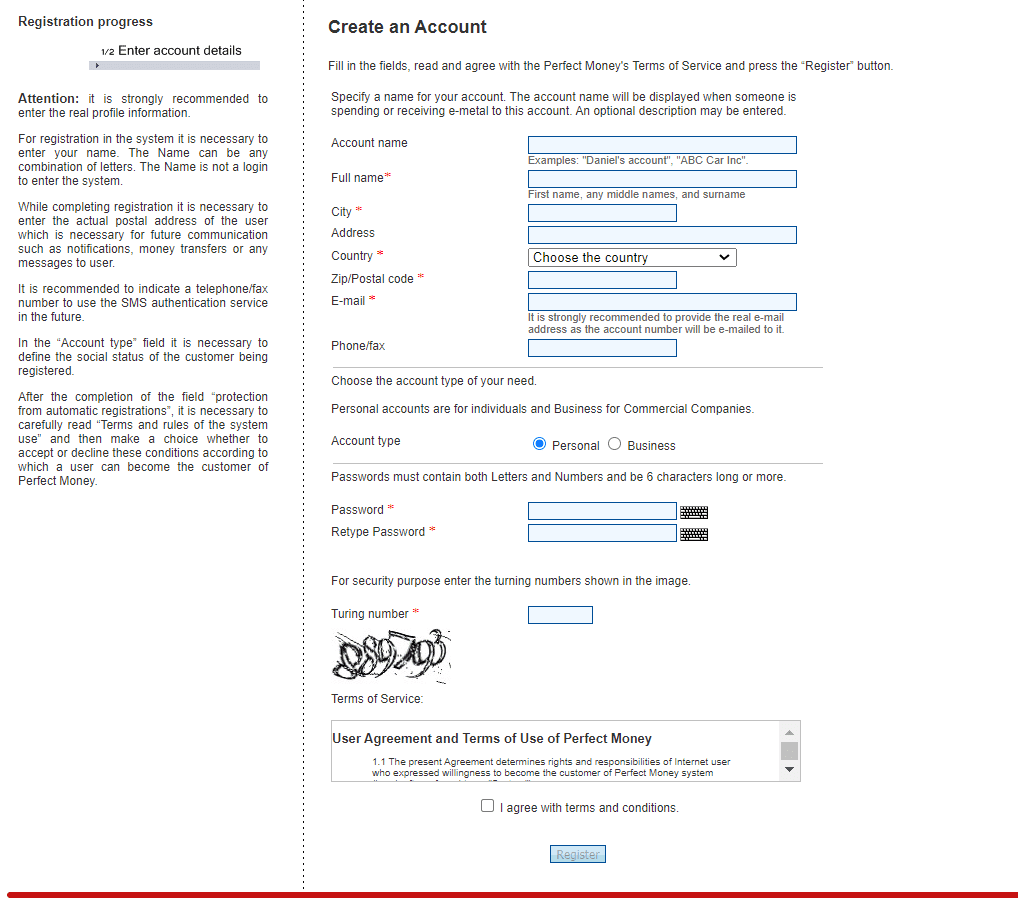 Step#3:
Go to your email to get your member ID. After completing the Perfect Money registration procedure, you'll get an email requesting you to check your inbox for a member ID.
Step#4:
Look through your inbox for a message with the subject "member ID" and open it.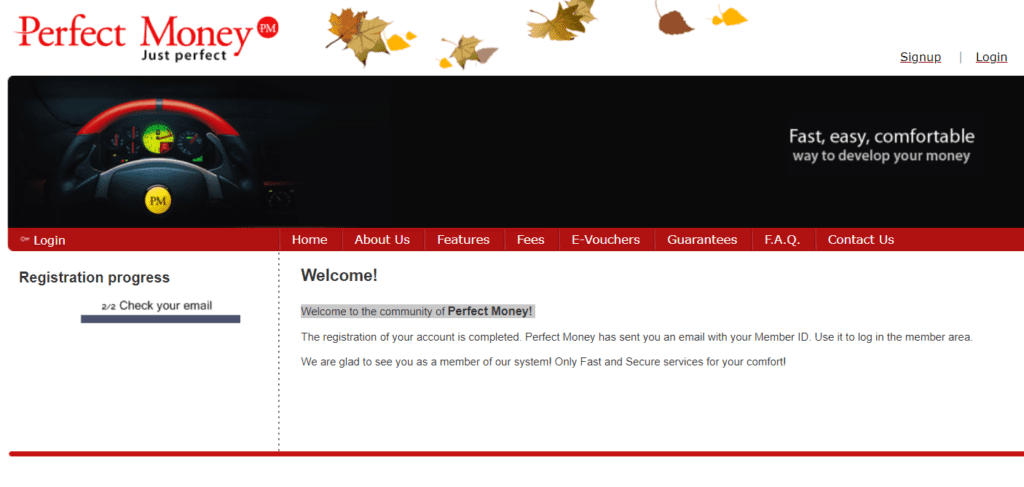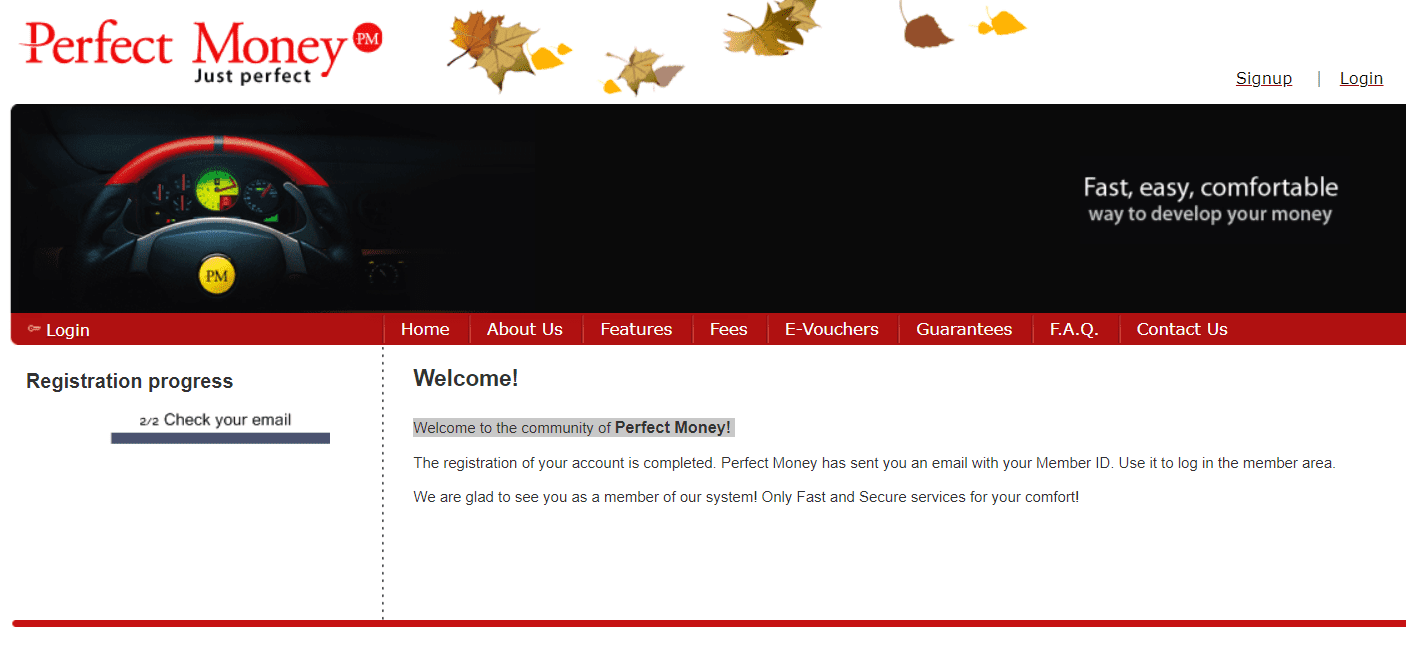 Step#5:
Log in to Perfect Money using the ID you just received. Return to the Perfect Money interface and log in to your account by selecting the "Login" button.
The steps are as follows:
– Enter the membership ID you just received.
– Turing's number
– Finally, click "Authorize" to finish the login procedure.
The interface for your account appears when you log in. At this time, you have successfully established your Perfect Money account.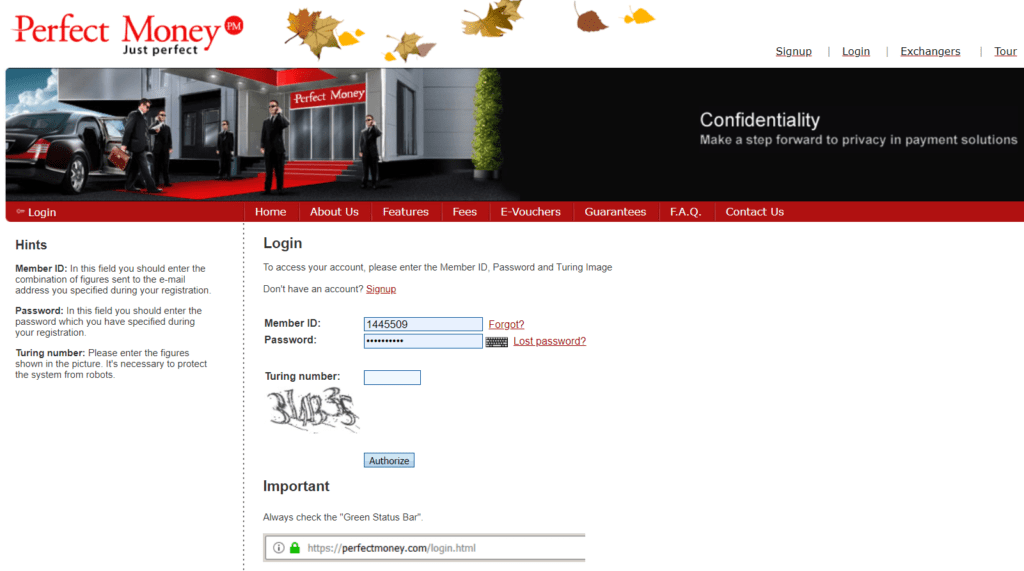 Perfect Money Login Process
The login process is fast, simple and secure.
To Login into Perfect Money website, go through the following steps:
– Step 1: Go to the "Login" tab.
– Step 2: Enter the client ID and password.
<strong "="">- Step 3: Double-check submitted information.
After successfully login in, the user navigates to the client area page. A toolbar at the top of the page enables you to go to the desired area of your account. The My Account feature welcomes users when they enter the client area. You may view the configured security settings and account reference information, such as transaction records, and all active accounts.
Perfect Money Fees
Perfect Money service fees have been minimized to ensure it is the most cost-efficient and convenient online payment solution. Perfect Money charges different costs for transferring money to, from, and within the account.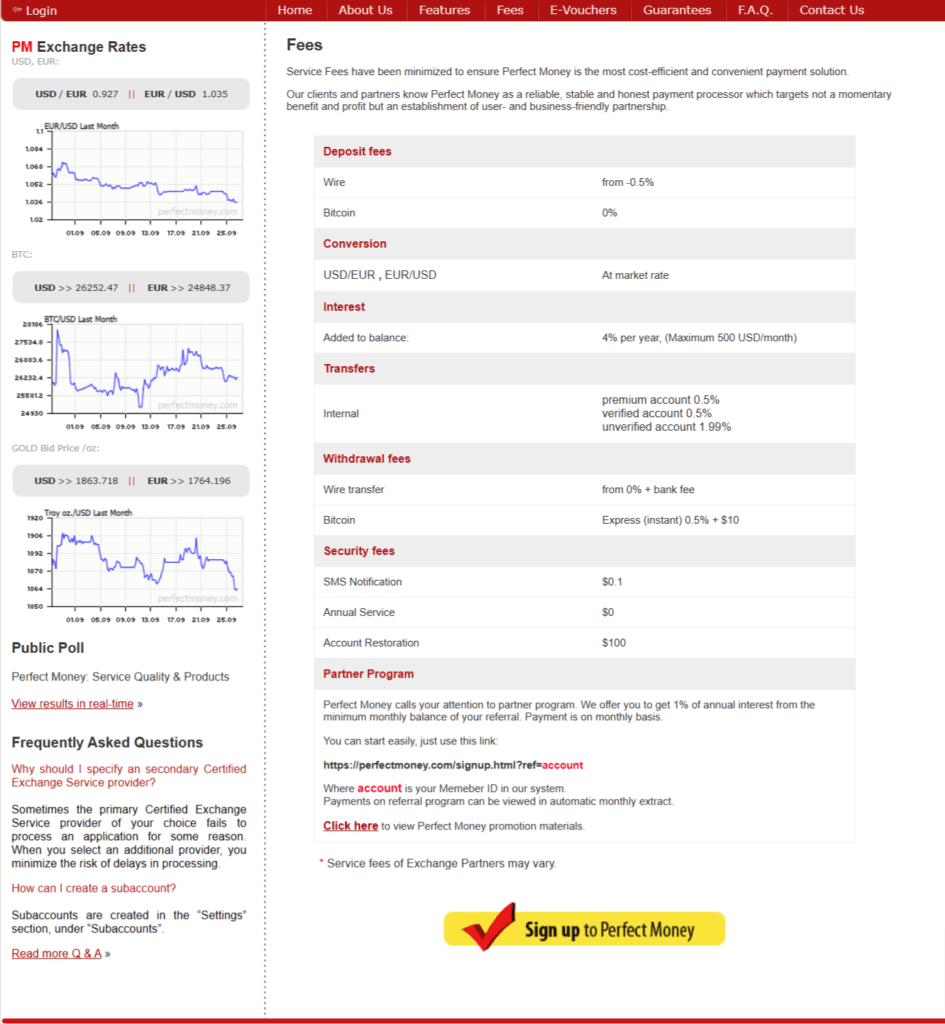 You may see the exchange rate for Euros, Bitcoins, Gold, or US Dollars on your account at any time. Commissions may change over time, so check fees with your broker one more time, but deposits are often free. Withdrawal fees are 0.5% for verified businesses.
Perfect Money "Fees" section: https://perfectmoney.com/fees.html
Perfect Money Security System
To safeguard your account, go to the "Security Centre" page. Here you may look at the IP address from which the user connects. You will get an email with a verification code each time you log in, and it is a procedure that should not be altered.
Perfect Money offers multi-level security for personal information:
1. Person Identity Check:
This tool is used to locate clients who have PM accounts. This gadget is a kind of Perfect Money artificial eye that cannot display the customer's face in real-time but can identify the computer used to establish the account. Suppose a Customer registration attempt is attempted from an IP address network or subnet that is not associated with the account holder. In that case, the account is blocked, and an extra security code is issued to the email address provided at account registration. The Perfect Money Support Center handles individual IP changes.
2. SMS Authentication:
This method creates a logical relationship between a user's account and mobile phone number. The system sends a confirmation code allowing the authentic account holder to be recognized. Because the time spent on the complete operation of code transmission and account entry is very short and insufficient for cracking, the SMS Login system is one of the most perfect and dependable types of Customer protection against unauthorized account access.
3. Code Card Protection:
The customer gets a card with a visual depiction of the code emailed to them. The system may ask the user to send a specific code from the card to verify a transaction in response to a random order. Most of the world's largest financial institutions employ code cards as a simple and efficient security method for transaction verification.
4. Anti-Fraud Screening System:
Perfect Money's anti-fraud scanning technology is a cutting-edge security solution that benefits its customers. Each login and every transaction is subjected to an anti-fraud screening procedure, which prevents money theft. This system includes patented activity-tracking algorithms that make Perfect Money a safer environment for consumers while making it unpleasant for those who attempt to use it illegally. After choosing this option, a file with the extension ".png" will be loaded, where you will find the codes that must be entered when making any financial transaction. The identical file will be sent to your email address. Enabling profile protection is an important step that helps the client to defend himself from intruders that try to hack into his account. It is an essential thing that should not be overlooked. You may use Perfect Money services immediately after registering and setting security measures. To reduce the commission %, we need to complete the verification process. To do so, go to the settings section and go through each step individually.
Perfect Money Deposit Options
The users of the Perfect Money system may replenish their balance in many different ways:
1. Internal Transfer:
E-money sending via internal transfers is a definitely convenient way to exchange funds. To receive an internal transfer, you must supply the sender with your account number, email address, or mobile phone number. The system charges a fee to manage internal transactions; thus, the amount deposited differs from the amount communicated. The Perfect Money e voucher can be a convenient way to exchange funds between PM users as well. You may discover more about the costs in the "Fees" section.
2. Bank Wire:
Bank wire transactions are only available to verified account holders. It is straightforward to make a bank wire deposit, fill out a bank wire order form and choose a bank account for the transaction. Accurately entered information is rewarded with the ability to monitor the progress of your bank wire, so don't be superficial about giving the correct details. After completing the bank wire refill form, click the "Preview" button. Examine all the information, choose the primary and secondary authorized exchange services from the list of partners provided, and then click "Send." The primary approved transfer service provider will accept your order for review 24 hours after you put it. Suppose the primary exchange service provider cannot execute your petition. In that case, the application is transferred to an alternate approved exchange service provider. The maximum order processing time for each exchange service is 24 hours. If your request is approved, you will get an email and an internal system mailbox message with the bank account details to which you must pay your payments. Such bank account information is also available in your purchase's "Deposit" part. Funds from a bank wire may not appear in your Perfect Money account for up to 5 business days after they have been sent. A bank wire deposit of at least $300 is required.
3. Certified Currency Exchange Partners:
Use one of Perfect Money's approved exchange service partners to deposit funds into your Perfect Money account. All of the services stated on the certified exchange service partners' websites have been thoroughly vetted and tested, guaranteeing that transactions go smoothly. The highest Perfect Money Trust score at the time of writing belongs to DollarPesa e-currency exchange. Below is a video tutorial on how to exchange USDT to Perfect Money:
Each exchange partner's terms and conditions, as well as deposit choices, can be unique. We strongly advise you to go over all of the content. Among the exchange service partners, many of them provide a diverse variety of Perfect Money purchasing options. You may fund your PM account with a credit card, bank transfers, cash, e-currency, cryptocurrency or a combination of these.
4. Bitcoin:
Bitcoin is a well-known cryptocurrency worldwide. To deposit Bitcoin into an account, a user must first create a deposition order containing the account number and the amount to be charged in Bitcoin, then inspect and confirm the order. After completing your purchase, the system will email you a Bitcoin address to which you must deposit the required amount within 24 hours. Your deposit will be completed once the Bitcoin is received, and each payment requires at least three confirmations. The amount sent to a Bitcoin address should equal the invoice value. If you choose to pay in two or more installments, be sure that the total amount matches the deposit amount specified on the purchase form. If the quantity of Bitcoin transferred differs from the amount specified in the order form, the process may take longer. Contact customer support if the funds have not been transferred into your account within 24 hours. The PM service charge for Bitcoin deposits is 0%.
5. Credit Exchange:
You may fund your Perfect Money account by borrowing money from other PM members. To utilize the Credit Exchange, log into your Perfect Money account and click on the appropriate area. You must complete an application or investigate existing loan offers that may interest you if you need a loan. If a lender's proposal meets a borrower's requirements, the funds are sent to the borrower's account after completing the transaction. Such transactions may be carried out automatically or with the borrower's permission. Loan applications contain the loan amount, repayment period, and interest rate. The Credit Exchange does not impose any additional fees. Lenders pay a standard 0.5 percent on demand to transfer money to a debtor. Borrowers must also pay a typical 0.5 percent fee when transferring cash to a lender.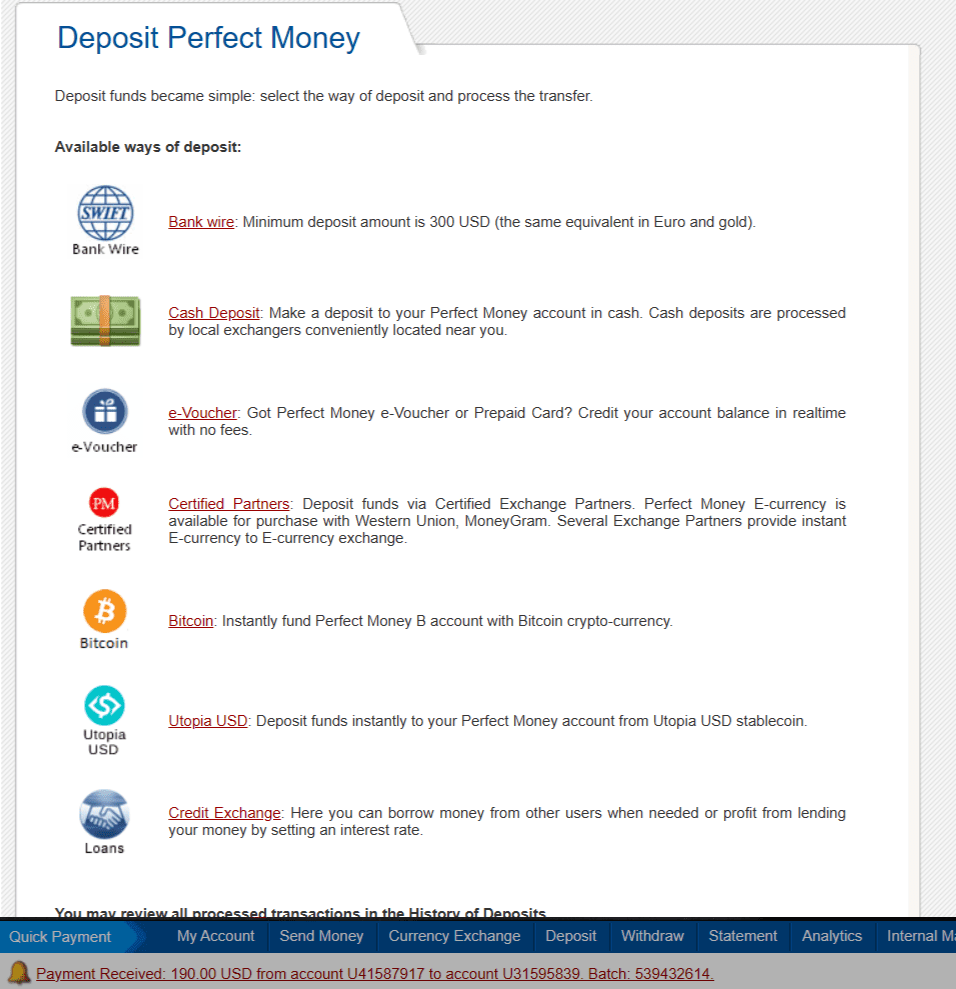 Perfect Money Withdrawal Options
It is straightforward to convert Perfect Money electronic currency to real fiat money or other payment options.
Withdrawals are possible in the following ways: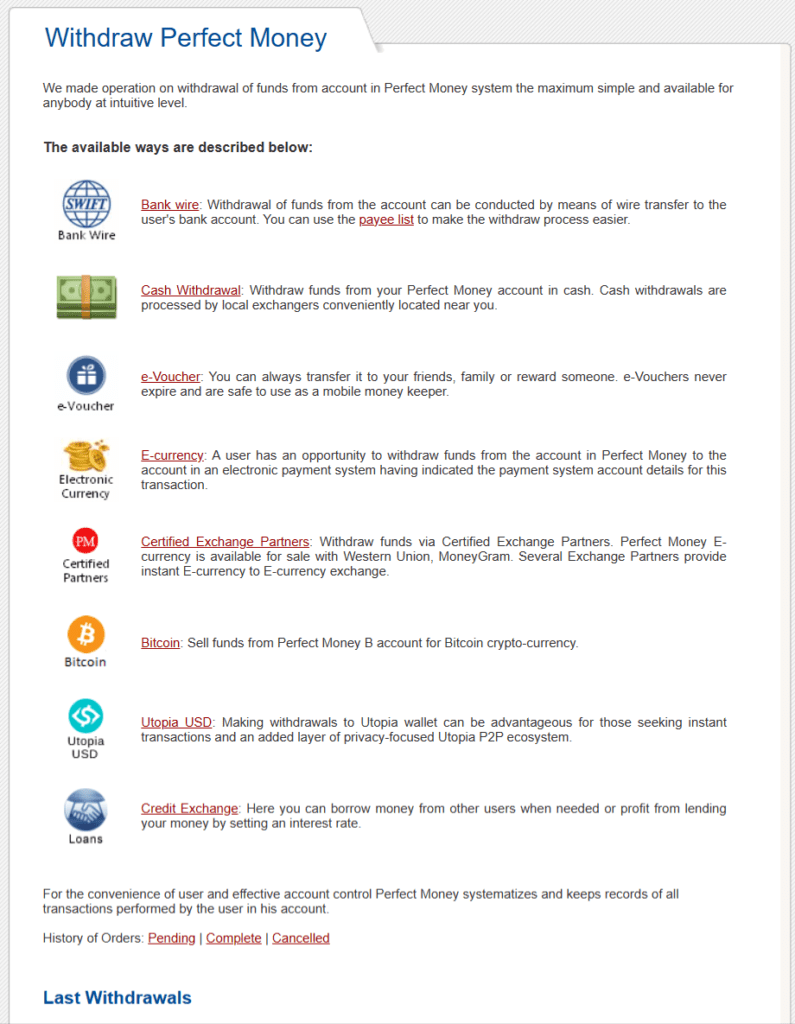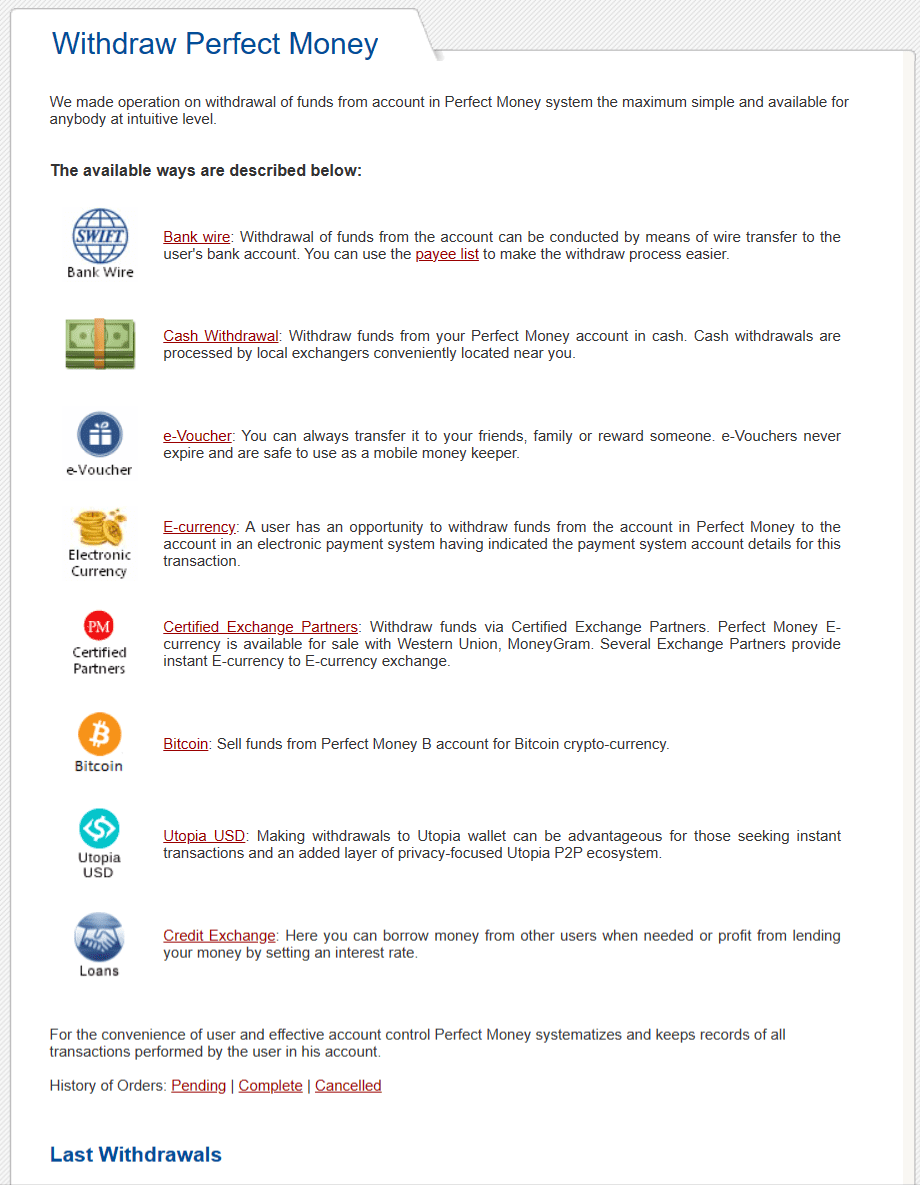 1. Internal Transfer:
If you want to transfer money internally, choose the account from which you wish to send funds, then enter the account number and amount to send. The approach computes and displays a service fee as well as the amount received by the end user. You may choose to make a one-time payment or set up a subscription plan. The technology also allows transfers to mobile phones and email addresses, and fees vary based on the kind of account.
2. Bank Wire:
The procedure for withdrawing funds by bank transfer is simple. To make a bank wire withdrawal, go to the "Withdrawal" section, choose "Withdrawal Through Bank Wire," and fill out all necessary documents. Your account details may be obtained from your bank. Using the "Preview" option, ensure that all the information is accurate. You may also choose your leading authorized exchange service provider and secondary authorized exchange service provider from this page to finish your application. After double-checking your information, click "Confirm withdrawal," and your bank wire withdrawal request will record in the system. A Registered Exchange Service partner will process your request within 24 hours. As soon as the withdrawal process is completed, the bank wire invoice number will be supplied. The withdrawal limit amount is established for each authorized exchange service partner. This withdrawal option is only available to verified users.
3. Certified Currency Exchange Partners:
Use a partner of Perfect Money's Authorized Currency Exchange program to withdraw funds from your Perfect Money account. All of the services available on the websites of the exchange services partners have been thoroughly inspected and tested, guaranteeing that transactions go smoothly. Each exchange partner's terms and conditions, as well as deposit choices, can differ.
4. Bitcoin:
Bitcoin is a well-known cryptocurrency worldwide. To withdraw funds from a Bitcoin account, a user must create a deposit order indicating the report used, the applicable Bitcoin address, and the amount to remove. After you've double-checked everything, click "Confirm."
5. Credit Exchange:
Because the borrowed money will be returned to the exact location, offering a loan is not a technique for taking cash from your account. However, putting it to work for you is a simple way to make money.
Where To Use Perfect Money Payment System?
Perfect Money is a worldwide payment system that specializes in online transactions. Some things you can do with Perfect Money are listed below:
– Raise funds for various business initiatives over the Internet; make regular payments via the Internet; deposit funds in a secure electronic account; and earn interest.
– Purchase goods and services from many online shops and marketplaces (for example Buysellvouchers.com).
– Safely store your belongings in bitcoin without needing a separate wallet.
– Buy Bitcoin, gold, US dollars, and Euros online; borrow and lend Money on your terms.
What Can You Buy With Perfect Money?
With a Perfect Money account, sending and receiving electronic payments is simple. It allows for online payments from one digital currency system to another. You may configure your Perfect Money account through the user account profile to make automatic payments to numerous linked Internet firms. The minimum deposit is $1000, and the monthly interest rate is up to 4%. Currency exchanges, bank transfers, alternative payment methods, and e-Vouchers are all frequent means of Transferring Money to and from accounts. The ability for customers to obtain gold, Euros, and Dollars in real-time is one feature that sets Perfect Money apart from the many competitors. Perfect Money customers may pay their bills and transfer money promptly online. The technology is safe to use and does not need any special knowledge. PM is a global payment service that everyone on the planet may utilize.
Perfect Money vs Payeer
Payeer is a multi-currency payment system that allows you to send and receive fiat money and cryptocurrencies. There are advantages and disadvantages to using Payeer. Still, the main feature is that you may receive cryptocurrencies and withdraw in fiat money. Perfect Money, as a payment gateway for sending and receiving money, enables you to fill your account with Bitcoin and earn interest on it. You may withdraw Perfect Money in many ways, including Western Union.
Conclusion
Is Perfect Money the easiest method to deposit and receive funds anonymously from a foreign exchange account? In some specific cases, there are some more alternatives that can match this purpose. However in many situations, though, traders may find Perfect Money a more convenient alternative than other e-wallets and payment methods. Before opting to utilize Perfect Money, it's a good idea to do some basic research. Examine the About page, FAQ, and costs, and learn about the site's history. You might also find out whether any other vendors you know utilize it. Find out whether they had a good experience and thought it was quick, easy, safe, and reliable. Another option is to contact Perfect Money's customer service team, which is available 24 hours a day, seven days a week. Ask your questions and see what you get in response. It's a terrific way to assess whether the site caters to your demands. To summarize, always make financial decisions based on your knowledge and common sense. Many customers seem to be pleased with Perfect Money. However, many others may wish to collect additional information about the operation and specifics of this service.
Pros of Perfect Money:
| | |
| --- | --- |
| 1. Transaction Anonymity: | When transferring Perfect Money, the eventual recipient only has access to the account number and the user's login. |
| 2. Instant Transactions: | Payments are processed inside the system in a couple of seconds. |
| 3. Convenient and Straightforward Interface: | The site is not overloaded and is simple to use, even for beginners. |
| 4. A Large Number of Partner Points: | Each user may choose the best deposit or withdrawal method for themselves. Customers may utilize borrowed money to conduct their enterprises or use this option to supplement their income by acting as a lender. |
| 5. The Availability of a Mobile Application: | In many cases, a mobile application can be a quick and convenient solution to make payments promptly. |
| 6. The Availability of an Affiliate Program: | You have the opportunity to earn passive income with the Perfect Money referral program. |
Cons of Perfect Money:
| | |
| --- | --- |
| 1. Money transferred improperly cannot be returned and applies to any unauthorized activity on your account. | In these cases, the government does not respond to any circumstances. |